Best Store Builder of the Year
If you've done any online shopping during the past few years, then you're familiar with
Shopify
; the ecommerce platform that lets you start, grow, and manage a ready-to-scale online business. JA Canada is proud to announce a new partnership with Shopify to create the first-ever
Best Store Builder of the Year Award
. The award will recognize success in creating a unique, innovative, and effortlessly smooth online store. This entrepreneurial challenge helps equip youth with the tools they need to achieve their entrepreneurial dreams.
Award Criteria
The recipient of the
Best Store Builder of the Year Award
will be recognized for creating the best custom, online store, using the Shopify e-commerce platform. Our judges are seeking submissions that demonstrate how Shopify's e-commerce platform was leveraged. The following criteria will be used: a convincing brand, efficient store policies, a compelling mission statement, and an overall user-friendly experience.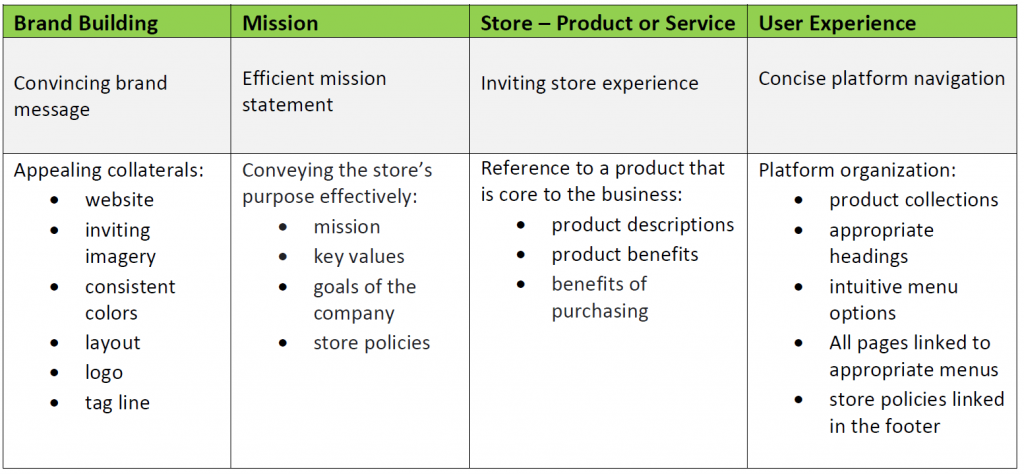 Documents Required
Using the criteria above, develop a brief overview (business report) of your online store, including, what you sell, and what makes you different from other stores. Demonstrate your eligibility for this award by including the following details:
Describe the brand experience you have created for your store. You may wish to include details about your brand's messages, colour palette, website imagery, product descriptions, or other content designed to make your store unique.
Describe your store's mission statement. Include details about the innovations or forward-thinking initiatives that you have implemented. You may wish to include details about the steps you have taken to address issues of sustainability, diversity, community connection, or social responsibility.
Describe the intended user experience for your store, including the design principles that have guided your decisions about how to organize your store and make it enjoyable and easily accessible for all customers.
Store walk-through video (1-minute maximum)
Supporting material (3-pages maximum) Provide examples of the criteria above using screenshots, product images, testimonials, charts, reports, videos, etc.
Submission Process
Review and adhere to the submission criteria outlined above.
Submit the documents required directly to JA Canada (clevo@jacanada.org) by June 8, 2022.Written business report (500-word maximum) Store walk-through video (1-minute maximum) Supporting material (3-pages maximum)
Shopify judges will review the submissions and select the 2022 Best Store Builder of the Year winner.
The winner will be announced on July 25, 2022.